M
artin Pring is known for being the "technician's technician". He earned a BSC (Economics) at Southampton University, UK.
Pring entered the financial markets in 1969. He is considered to be a leader in the field of technical analysis amongst the global investment community.
Martin Pring is the creator of Known Sure Thing (KST), a momentum indicator. KST is the summed rate of change that combines several time spans into one indicator. It is used to determine trade signals and confirm trends.
In 1981, Martin Pring founded the International Institute for Economic Research and began providing Research for Financial Institutions and Individual Investors around the World. He also published a market review offering a long-term synopsis of the World's major financial markets.
Over the past three decades, Pring's research has led to the development of reliable financial and economic indicators for timely and effective forecasting.
His personal Barometers for the Bond, Stock, and Commodity Markets have identified major turning points since the 1950's on a timely basis, thereby outperforming the buy/hold approach by a significant margin.
Martin Ping serves as Member of Board of Advisor at Recognia, Inc.
Since 1984 Pring joined Golden Gate University as an adjunct professor teaching a virtual graduate-level course on technical analysis. Pring is the President of pring.com, an educational technically oriented website. Chairman of Pring Turner Capital Group, a money management firm and the founder of Pring Research.
Martin Pring has also written six books. "Technical Analysis Explained", "Technician's Guide to Day and Swing Trading", "Breaking the Black Box", "Introduction on Candlestick Charting", "How to Select Stocks and the two-volume set" and "Momentum Explained."
Martin Pring is the creator of Known Sure Thing (KST), a momentum indicator
INVESTMENT STYLE
Pring applies technical analysis in his decision making and he trades with stop losses at a strategic price level.
The guiding light of investment contrarianism is not that the majority view-the conventional, or received, wisdom-is always wrong. Rather, it's that majority opinion tends to solidify into a dogma while its basic premises begin to lose their original validity and so become progressively more mispriced in the marketplace – Martin Pring

LEARNING RESOURCES
Martin Pring's "Technical Analysis Explained" (published1979) is used by several Technical Societies for Training and is one of the three main books for Level 1 CMT certification for the Market Technicians Association.
Technical Analysis explains the building blocks of technical analysis.
For example, peak and trough analysis, support and resistance, trend lines and price patterns (Rectangles, head and shoulders tops and bottoms, Triangles, double tops and bottoms and triple formations).
Momentum principles are also explained. Broadening Formations (wedges, cup and handle) are also discussed in the book.
Pring's site ( Pring.com) also features a 15+ hour interactive online video training course on technical analysis.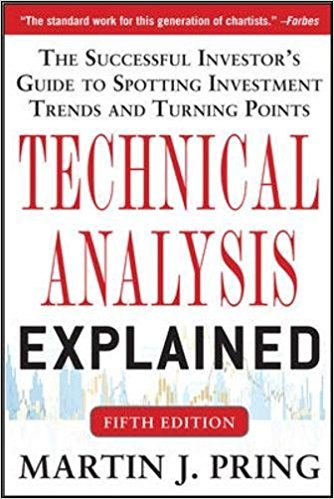 CONNECT WITH INVESTOR
Follow this World Top Investor via their various social media channels and read more about their background and current investment interests on their official website: